92 million Americans will eat out on Mother's Day
Everyone has their own special way of honoring their moms on Mother's Day, but one thing remains certain: we love to celebrate at restaurants.
Our most recent research finds that 92 million American adults, or 37 percent of consumers, will dine out this Mother's Day and 21 million, or 8 percent of consumers, plan to order takeout or delivery.
A meal together is the best gift
On May 14, nearly half of Mother's Day restaurant diners plan to celebrate their moms over dinner and almost as many say they'll do so at lunch. Moms love dining out with their families on this special day, too. In fact, 32 percent of mothers surveyed say having a meal at a restaurant with their loved ones is the best gift they could receive. And their families know it; Mother's Day is the most popular dining-out holiday, followed by Valentine's Day and Father's Day.
"Restaurants remain a place for families to come together to celebrate special occasions," said Hudson Riehle, our senior vice president of research. "As families honor the tireless efforts of mothers across the country, we expect Mother's Day to, once again, be the busiest restaurant day of the year."
How they'll dine out
According to the survey, age could factor into the type of restaurant meal they'll have on Mother's Day. Brunch is more common with Americans 65 or older, while diners 35 to 44 are more likely to choose dinner. Overall, here's how Americans say they'll celebrate Mother's Day in restaurants:
10 percent will have a special breakfast
25 percent will eat brunch
45 percent will do lunch
47 percent will celebrate at dinner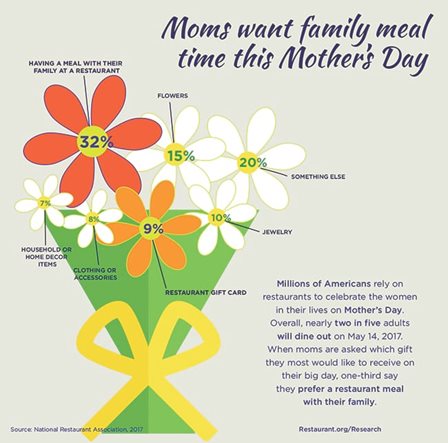 SOURCE: