A Cost-effective, Form-Fitting Vinyl Alternative with a Grip
For precise kitchen tasks, foodservice operators don't usually think to use poly gloves. They want a form-fitting glove that's comfortable and easy to move in, but struggle to find a cost-effective choice. That's why the new Handgards Grip Gards® Stretch Hybrid gloves feature a second-skin fit, like vinyl or nitrile, but at a poly glove price.
By simply sizing down one size, the fit of these gloves improves dexterity throughout different foodservice environments and tips the scale by offering an innovative new grip feature. Thanks to the gloves' unique diamond pattern texture, users can enjoy greater grip when handling slippery or small, hard-to-grasp items.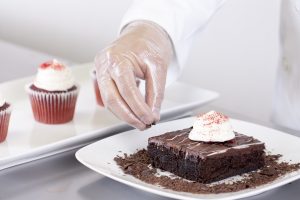 Grip Gards® Hybrid Stretch Gloves are perfect for:
Professional plating/garnishing
Pre-portioning
Salad prep
Catering
Bartending
Housekeeping
Buffet Serving Lines
Grip Gards® Stretch Hybrid Gloves- Powder-Free
| Reorder No. | Case Pack | Case Qty | Color | Size | PP/PF |
| --- | --- | --- | --- | --- | --- |
| 303363301 | 10/100 | 1000 | Clear | S | Powder-Free |
| 303363302 | 10/100 | 1000 | Clear | M | Powder-Free |
| 303363303 | 10/100 | 1000 | Clear | L | Powder-Free |
| 303363304 | 10/100 | 1000 | Clear | XL | Powder-Free |
| 303363561 | 10/100 | 1000 | Blue | S | Powder-Free |
| 303363562 | 10/100 | 1000 | Blue | M | Powder-Free |
| 303363563 | 10/100 | 1000 | Blue | L | Powder-Free |
| 303363564 | 10/100 | 1000 | Blue | XL | Powder-Free |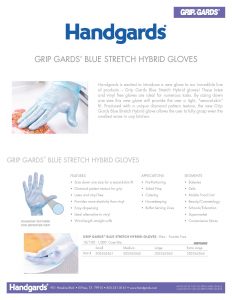 POS #: 410601205 PS1205 GripGards Stretch Hybrid Clear
Kit #: 410701205 KIT1205 GripGards Stretch Hybrid Clear