Celebrating a Life of Service
Two weeks ago, the Handgards family came together to share memories and celebrate our beloved friend and CEO, Bob McLellan. Bob passed away suddenly on June 13, 2019 and although he left big shoes to fill in terms of leadership, he left his legacy and values in the hearts of every single Handgards staff member.
To honor Bob, Handgards staff organized a memorial assembly at which friends and family had the opportunity to share stories and speak about Bob. Among those that spoke were members of the McLellan family, members of the Board of Directors, sales staff, members of the executive staff, administration staff and manufacturing staff.
Chairman of the Board, Richard Williams, recounted the events leading up to Mr. McLellan's hiring as Handgards CEO. He mentioned how Bob was eager to get started on the company and never complained, even when it turned out there was more work to do than was initially expected. "He rolled up his sleeves and he took on the challenges," Richards noted.
Mr. Richards praised Bob for bringing on a new era of prosperity for the company and said that with all the work that he put it in, "Handgards is Bob McLellan's company."
Several speakers mentioned how much Bob meant to them personally, and not just as an employer. Executive VP of Manufacturing & Distribution, Letty Hernandez, said Bob was like a father to all and that "if he took care of us, everything would fall into place."
Extrusion Group Lead, Polo Loya, also mentioned how much Bob's support meant to him through tough times and that when he heard of Bob's passing, he felt a pain in his heart like when his mother died.
National VP of Sales, Maurice Malone noted that Bob was "always thinking about everyone else and how he could inspire them."
Throughout the event, the reoccurring message was that Bob instilled core values into the company that could not be taken away, and that he would want Handgards to keep moving forward, "get up early, produce the product, load the trucks, deliver on time and complete and do it all over again," as mentioned by Executive VP of Marketing & Sales, John Lewchenko.
Although Handgards will miss Bob in immeasurable ways, we will continue to carry his memory and to honor one of his goals which was, as Robbie McLellan said, "to create a team that will function without you."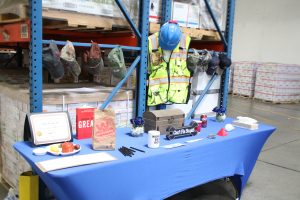 A small memorial displaying some of Bob's personal items and favorite things, including his custom camo safety vest, his many caps, his "Can't Fix Stupid" slogan, and a meal of Wienerschnitzel and Dr.Pepper.

Bob carried with him a flip phone and frequently said, "I always have my phone with me and you can call me anytime..BUT I DON'T DO TEXTING."
About Bob – from the article published in the El Paso Times
Robert John McLellan, President and Chief Executive Officer, Board Member and shareholder of Handgards Inc. El Paso, and one of the most recognized faces in the local and business
community passed away June 13, 2019 at the age of 68.
Simply known as "Bob", he created his legacy by gaining the respect and confidence of the food service industry as a progressive innovator in food safety with the primary mission to satisfy the needs of customers by providing quality products and service of the highest level. "Our business is simple" he always said, "we get up early to load the trucks and the next day we
do it over again". Through daily challenges for excellence, Bob stayed committed to the quality of relationships with customers, suppliers, the company community, and each other.
Bob graduated from St. Bonaventure University in 1972 as a Who's Who in American Universities and Colleges. Upon graduation he entered the United States Marine Corps as an
infantry officer with assignments in the Middle East, Cuba, and Asia. Upon leaving the Marine Corps as a Captain in 1976, he began working at Procter and Gamble in Sales and Marketing
holding Senior Management positions. He joined Ft. Howard Paper in 1990 and, as the company was transitioned, worked for Ft. James and Georgia Pacific in Senior Sales and Marketing
positions. He joined Handgards as President and CEO in 2003. A sharp tireless businessman and fearless leader, Bob rolled up his sleeves and very quickly pulled the company from distress
to building Handgards to what it is today: a market leader in the disposable food service industry. Bob had many talents but was most admired for his extraordinary leadership skills. He lived by the values "Excellence in All We Do" and "Service Before Self". His larger than life personality brought out the best in everyone. He had a relentless commitment to Handgards, its customers and
employees. Bob was recognized by customers for his friendly face and smile of confidence.
Bob led by example and never sat on the sidelines. He was the kind of guy who constantly got his hands dirty and made things happen. He coached and mentored with influence and
bequeathed values over valuables. He instilled: "the lifeblood of the company are our people and the company is only as good as the people". A humble, caring, and learned man, Bob recognized everyone's skills and abilities and sawgreatness in everyone; often identifying talent in the most entry level employees. He knew everyone's names including family members and their history. Not only did his philanthropic efforts reach local organizations, he was the first to aid his employees. He prioritized safety, not as a tick box on a form, but verbally encouraging safe practices so his company family could go home to theirs. Handgards' employees were his family and the source of his greatest pride. He truly cared about his employees, their families, customers, and business partners.
Bob encouraged everyone to live life to its fullest. "Live for today", he said, "yesterday is not coming back, and worrying about tomorrow is not an option. Don't worry. When you
see me worry, then you can worry." Through Bob's ongoing entrepreneurial spirit and champion for uncompromising leadership, he built and empowered a top-notch leadership team
who remain unintimidated and united. His legacy does not leave something for his people. It leaves something "in" his people. We follow what he taught.
Loved by all for his thoughtfulness, intelligence, and of course humor, Handgards benefits from all those characteristics and many others. He will be missed tremendously, and his legacy
lives on.
Bob is survived by his wife of 47 years Carolyn, his son Lt. Col. Robert McLellan and wife Kristen, his daughter Leslie Castro and husband Chris, and 5 grandchildren who he loved and spoke of often: Gus, Luke, Mac, Molly, and Maegan.
"Rest in Peace Sir" "Semper Fi"
The "Star on the Mountain" was lit by R.M. Personnel, In honor and memory of Bob McLellan on Wednesday and Thursday, June 19 and 20th. His light will shine bright forever.
Memories of Bob
Slide show on Handgards' Private YouTube Channel:
Photos used for the Slide Show:
Bob's Memorial Service
Bob's Memorial Service on Handgards' Private YouTube Channel:
Photos from the memorial service at Handgards: