Handgards Attends Thrive Non-foods Summit
Last month Handgards attended the three-day PFG Thrive Non-foods Summit in Irving, Texas to educate attendees about company products and make connections with key industry professionals. Minerva Lara, Marketing Manager, Chris Campbell, Vice President of Sales and Jesus Licon, Executive Vice President represented the team.
Attendees learned about supplier products through round-robin type trainings and presentations, where groups rotated from presentation to presentation every 20 minutes.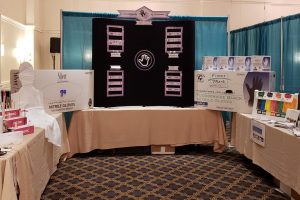 For the Handgards presentation, the team collaborated to put together a creative hands-on activity in which attendees aimed rubber hands at a giant product target board to learn about company products and win prizes. Attendees enjoyed the fun educational format and learned plenty.