Handgards Product Feature: Aprons and Chef Hats
Chef hats and aprons are important apparel items that every operation should have in house. Their purpose is two-fold, not only do these items provide protection against cross-contamination, they also provide a more professional aesthetic to any foodservice operation.
Handgards Poly Aprons are perfect for when you want your employee's uniform to show through and yet still be protected. They are ideal for all food prep and serving duties.
Neatgards Aprons offer the following advantages: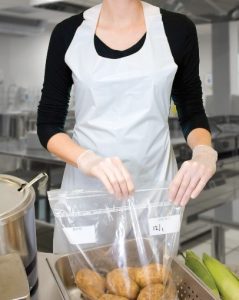 Available in Clear, Yellow, Red and White
Three grade levels available – an apron appropriate for any application

Light Duty
Medium Duty
Heavy Duty
An improved formula and die cut provides an apron that is 50% stronger
Helps to reduce the possibility of cross contamination and the potential for transference of viruses and bacteria by clothing
Chef Hats have been a part of the traditional 'Chef uniform' since the 1800's. The height and sharp whiteness of the Chef Hat denotes prestige and experience throughout the culinary field.
Handgards Chef Hats provide the following features and benefits:
Cost effective option versus linen
Available in two different variations

Traditional wide pleat
Economical, fluted pleat

Both versions are available in multiple sizes
Differing heights give your restaurant the freedom to categorize the back of the house from head Chef to line cook