Made In The USA
At Handgards we are proud to produce many of our items in the USA! We manufacture them in El Paso, TX where we employ around 289 hardworking people to make sure that our standards and quality are the highest. We manufacture many disposable foodservice items such as, poly gloves, pan liners, pre-portioning bags, tinted pre-portioning bags, poly bibs for both adults and children, poly aprons and much more! We also have the capability to custom print up to 8 colors on our bags, bibs, aprons and storage bags. With our low minimum order quantities, you can get your company or restaurant name out there with custom printed products.
Having the Plant in El Paso, TX helps with quick turnaround time for products, controlled recycling and proper manufacturing techniques.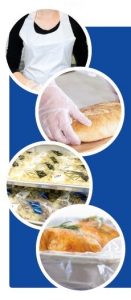 LOW DENSITY POLYETHYLENE APRONS AND BIBS – Neatgards and Valugards aprons are recommended for all prep and serving duties. They protect uniforms and clothing, and combined with proper hygiene practices and frequent changes, can help reduce the possibility of cross contamination and the potential transfer of harmful bacteria or viruses. Microbes can double in number quickly and harmful viruses can also spread quickly. Neatgards bibs also help protect clothing and prevent contamination.
DISPOSABLE POLY GLOVES – Polyethylene gloves are loose fitting gloves that are perfect when frequent changes are required. They are great for sandwich making, bakeries, pre-portioning meats, and counter service.
PRE-PORTION BAGS – Our pre-portioning bags are made of the highest quality high density film. Operators pre-portion their foods and use the food rotation system to:
SAVE MONEY – ensure that the exact portion and subsequently the same food cost every time.
SAVE TIME – operators will sell plates faster during busy times and turn tables quicker.
BUILD CONSISTENT PORTIONS – customers want the same portion every time.
PRACTICE FOOD SAFETY – improperly stored food is one of the leading causes of food borne illness.
NYLON AND HIGH DENSITY PAN LINERS – Pan Liners can save time and money for your kitchen by eliminating timely labor costs and improve the functionality of your kitchen. These bags eliminate labor intensive jobs of scrubbing and scouring baked-on foods. Nylon pan liners can withstand temperatures up to 400° F, and high density pan liners can go up to 200°F.