Paper VS. Non-Woven Chef Hats: Benefits & Uses
Second only to maintaining a delicious menu is maintaining customer trust and expectations through a professional appearance. Foodservice operators achieve this through uniforms, including branded apparel, aprons and most commonly, hats.  Handgards offers both paper and non-woven chef hats to provide a cost-effective solution that keeps staff comfortable and stylish while keeping hair out of food.
Handgards Paper Chef Hats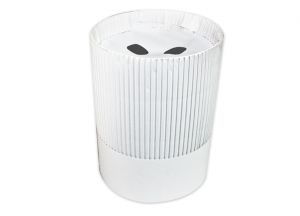 To offer variety, these gloves are offered in both pleated and fluted styles. Handgards Pleated Chef Hats feature broad pleats, each measuring almost a full inch. As opposed to broad pleats, Handgards Fluted Chef Hats feature much more slender pleats, each measuring nearly a quarter of an inch.
In fine dining history, the number of pleats represented how many recipes a chef had mastered. However, styles are now chosen based on preference. Handgards Paper Chef Hats come in three different heights (7",8" and 9") and can be adjusted with an adhesive strip. They are shipped fully assembled in a stack.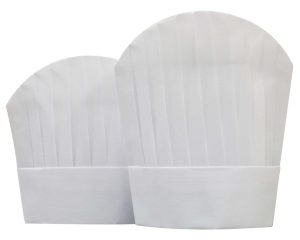 Handgards Non-Woven Chef Hats
A brand-new addition to the line, these hats are made of a non-woven viscose material that is durable and reusable, yet disposable. Handgards Non-Woven Chef Hats feature broad pleats, each close to a full inch in width. To offer an especially snug fit, they feature a velcro closure that can be adjusted for comfort. These hats are fully formed and flat packed, allowing more to fit in one case. More hats per case allow for savings on transportation costs and shelf space.
Making a Choice
Both Handgards Paper Chef Hats and Handgards Non-Woven Chef Hats elevate the appearance of staff and add an air of elegance and professionalism. All Handgards chef hats are pleated, adjustable, disposable and feature vents at the top for comfort.
Utimately, the choice between chef hats is based on preference. Operators may choose any type based on the style that matches uniforms best, may choose a case of stacked hats or flat packed based on preferred storage, between an adhesive or velcro closure based on comfort, or may choose paper versus a non-woven material based on how heavy the use.
Now available for order!
Handgards Non-Woven Chef Hats
| Reorder No. | Case Pack | Case Qty | Size | Color |
| --- | --- | --- | --- | --- |
| 305115031 | 5/10 | 50 | 8 inch | White |
| 305115032 | 5/10 | 50 | 10 inch | White |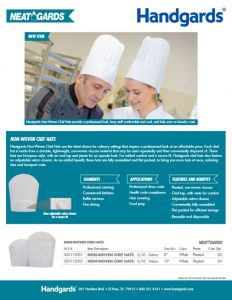 POS: HGI CHEF HAT FLAT PK VE PS-1459 410601459
Handgards Paper Chef Hats
| Reorder No. | Case Pack | Case Qty | Size | Color | Style |
| --- | --- | --- | --- | --- | --- |
| 305115017 | 12/1 | 12 | 7 inch | White | Pleated |
| 305115018 | 12/1 | 12 | 9 inch | White | Pleated |
| 305115019 | 12/1 | 12 | 10 inch | White | Pleated |
| 305115020 | 12/1 | 12 | 7 inch | White | Fluted |
| 305115021 | 12/1 | 12 | 9 inch | White | Fluted |
| 305115022 | 12/1 | 12 | 10 inch | White | Fluted |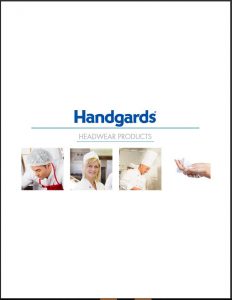 POS: HGI HEADWEAR EXPENDABLES PS-1455 410601455