SoftFit™ Nitrile Gloves Now Available!
Handgards SoftFit™ Thin Nitrile Gloves are now ready for order! These gloves feature the strength and flexibility of nitrile while offering a material that is lighter and softer than ever. The lightness and comfort of these gloves offers a barely-there feel.
As an added bonus, these translucent white gloves are packed 250 per dispenser, reducing packaging, energy and travel costs while maximizing value and shelf space.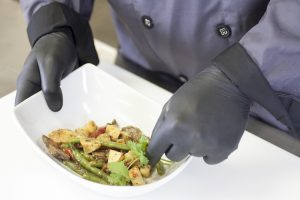 Coming Soon in Black
SoftFit™ Thin Nitrile Gloves will soon be available in a sleek black color, perfect for customer facing preparation. The black color discreetly hides grease and stains, for a more professional look that's become especially popular in barbeque restaurants.
Features and Benefits
Exceptionally soft and lightweight
Comfortable and durable
Flexible, form-fitting design
Ideal latex and vinyl alternative
Cost-effective 250 value pack
SoftFit®Thin Nitrile Gloves
| Reorder No. | Case Pack | Case Qty | Color | Size | PP/PF |
| --- | --- | --- | --- | --- | --- |
| 304340411 | 4/250 | 1000 | Translucent | S | Powder-Free |
| 304340412 | 4/250 | 1000 | Translucent | M | Powder-Free |
| 304340413 | 4/250 | 1000 | Translucent | L | Powder-Free |
| 304340414 | 4/250 | 1000 | Translucent | XL | Powder-Free |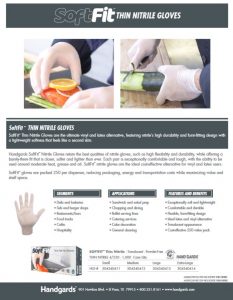 POS- HGI SOFTFIT THIN NITRILE PS-1259 410601259