The Black Glove: Available in Nitrile and Coming Soon in Vinyl
Black gloves have become a popular way to add personality and style to foodservice uniforms across the industry. This is especially true for barbeque and other restaurants that prepare and handle food right in front of customers. Besides offering a polished look, the black color of these gloves also makes it easier to discreetly hide grease, sauce, and stains. Lucky for stylish chefs everywhere, Handgards black gloves are available in nitrile and coming soon in vinyl.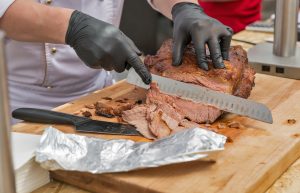 Handgards Black Nitrile Gloves
These nitrile gloves are perfect for a variety of high-skill tasks. The high-quality nitrile that they're made of makes them especially durable, and they offer excellent flexibility. Due to their elastic material, Handgards Black Nitrile Gloves conform to the user's hands, allowing them to be able to move with more dexterity and precision. This is indispensable to barbeque pitmasters, since accuracy in cutting meat can affect food costs.
Another key feature that makes Handgards Nitrile Gloves popular for barbeque restaurants and steakhouses is that they are puncture-resistant*. This makes them ideal for work with tough textured items like cartridge and sharp bones.
Now available in XXL!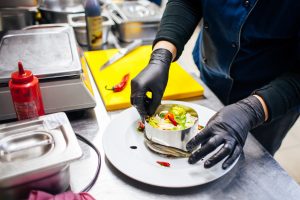 Handgards Black Vinyl Gloves
Featuring the same jet-black look, these vinyl gloves can be used for many kinds of food prep and pre-portioning. Users can wear these tight-fitting gloves for a longer period of time than looser gloves and they can be used to handle hot foods like sandwiches and hot dogs. Handgards Black Vinyl Gloves offer users increased dexterity while they work, which can also be used to serve food and for general cleaning tasks.
These gloves will be available for order in early September. 
Handgards® Black Nitrile Gloves
These gloves are now available in XXL!
| HGI No. | Case Pack | Case Qty | Color | Size | PP/PF |
| --- | --- | --- | --- | --- | --- |
| 304340371 | 10/100 | 1000 | Black | S | Powder-Free |
| 304340372 | 10/100 | 1000 | Black | M | Powder-Free |
| 304340373 | 10/100 | 1000 | Black | L | Powder-Free |
| 304340374 | 10/100 | 1000 | Black | XL | Powder-Free |
| 304340375 | 10/90 | 900 | Black | XXL | Powder-Free |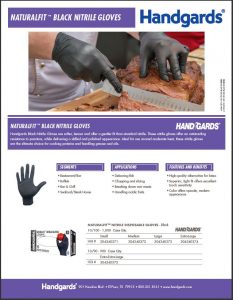 *not pucture-proof, please take all necessary precautions
410601275 • PS-1275 HGI BLACK FS NITRILE
410701275 • KIT 1275 HGI BLACK FS NITRILE
Handgards® Black Vinyl Gloves
| SUPC | HGI No. | Case Pack | Case Qty | Color | Size | PP/PF |
| --- | --- | --- | --- | --- | --- | --- |
| 7053955 | 304340431 | 10/100 | 1000 | Black | S | Powder-Free |
| 7053956 | 304340432 | 10/100 | 1000 | Black | M | Powder-Free |
| 7053957 | 304340433 | 10/100 | 1000 | Black | L | Powder-Free |
| 7053953 | 304340434 | 10/100 | 1000 | Black | XL | Powder-Free |