Robert J. McLellan November 17, 1950 – June 13, 2019
It was 1 year ago that our beloved President & CEO, Robert J. McLellan passed away. Known to his employees as simply "Bob", he served as a model of the core values he kept close to his heart and treated everyone on staff like his closest family and friends. He was the epitome of what a great leader should be.
Though he is no longer with us, his memory will forever live in our hearts and mind.
He made a point to remember everyone's name and a part of their story to show how much he cared about us not as employees, but as human beings. Fittingly, Bob prioritized safety, not as a box he could tick on a form, but so that every single person could go home to their family at the end of their shift.
Bob treated everyone with an utmost respect for his or her skills and saw greatness in everyone. He pushed us to be better, often seeing talent in the most entry-level employees and lifting them up further. He appreciated every single person that worked in this company, from top to bottom, and saw them and their contributions as indispensable.
A sharp businessman, Bob often noted that there was no question that Handgards is a business and needs to make money, but it wasn't the money itself that was important. It was the loving community that was built and sustained through the work here that served as a motivation.
A humble, caring, fearless leader, mentor and friend, Bob will be always remembered. We have loved him in life, let us not forget him after death. Not a day goes by that we don't think of him and he will be forever missed.
We continue having Bob's family in our prayers. His wife, Lynn McLellan, of 48 years was his rock and foundation and his son Robbie and daughter Leslie will forever be a part of the Handgards family.
"Let's go get 'em gang!"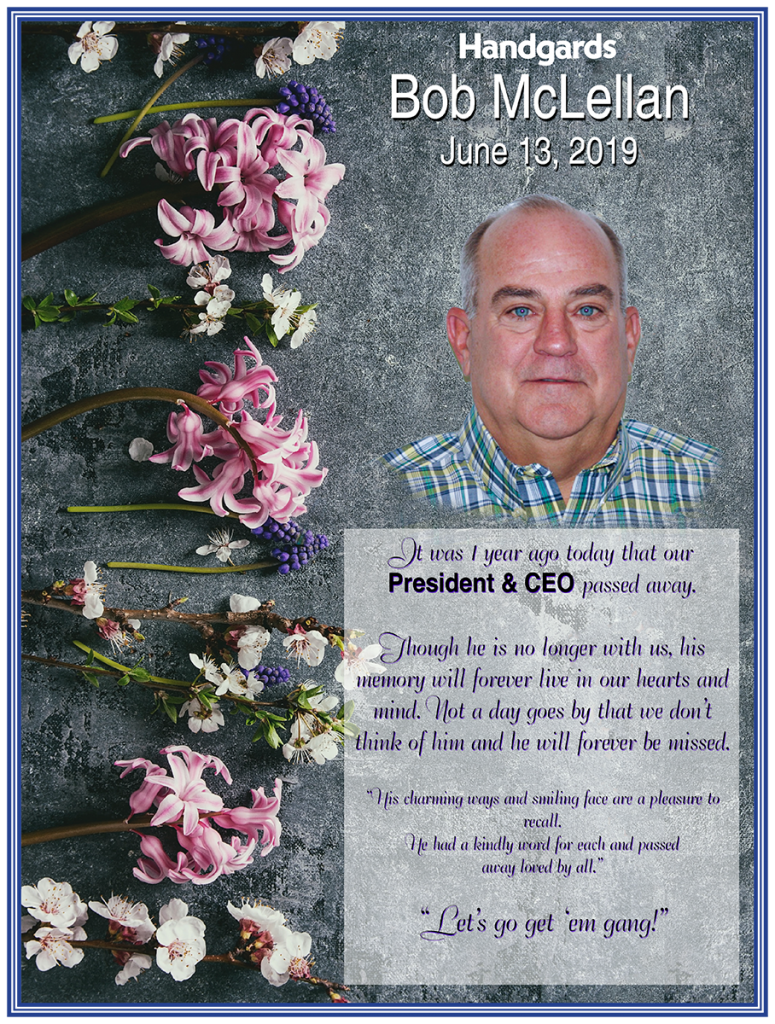 Robert J. McLellan
November 17, 1950 – June 13, 2019